Offline Access
Desktop/Laptop Computer
Full Install
The full PhET Offline Website Installer package installs a copy of the PhET website in English onto your computer. Once installed, you do not need to be connected to the Internet to view or run any of the simulations as long as you have Java, Flash, and a web browser such as Firefox, Chrome, or Internet Explorer. Java is required to open the Java simulations. It can be downloaded here: http://java.com/. See our system requirements for more detail.

If a website installer that supports languages other than English is needed, please contact us.
These installers of the PhET simulations are updated frequently. We suggest uninstalling your earlier versions before installing a new one. The installers were last updated on Dec 9, 2017 at 10:00:02 PM MST.
Download installer with simulations only (no activities)
Download installer with simulations and activities
If you have an Internet connection that is too slow, we can send you a DVD-ROM with the full installation package. Please specify the type of installer (above) when contacting us.
Chromebook
We offer an Android app that allows native offline use of all the HTML5 sims. Find it on the Play Store here. It is available on select Chromebooks.
All the HTML5 sims
in an app!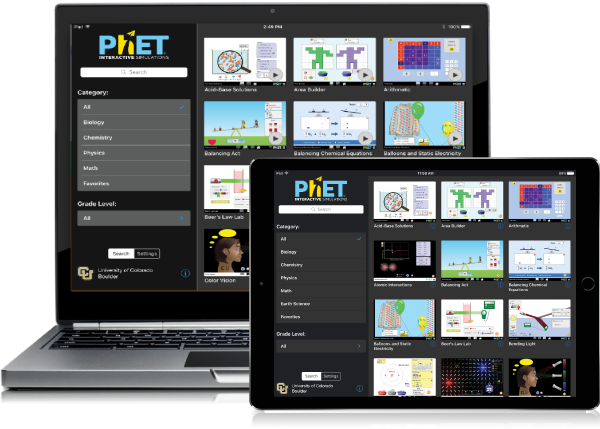 Compatible with select Chromebooks
Ideal for offline use
Includes favorites, filtering, and automatic updates
All proceeds support HTML5 sims (only $0.99!)

iPad
We offer an iPad app that allows native offline use of all the HTML5 sims. Find it on the app store here.
In order to 'Download' an individual sim to use on an iPad (offline), you'll need to add it to the iPad reading list.
To access a PhET simulation on an iPad while not connected to the internet, first open the sim in Safari by clicking the play button. Tap the Action button and then tap Add to Reading List. In the future, simply tap the Bookmarks icon and tap the sim page that is saved in the Reading List.