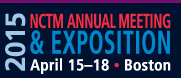 See us at our Booth #647 at the exhibit hall. And, on Friday, learn about how to use PhET Sims in your math classes with Karina Hansberry and Amanda McGarry.
Practical Strategies for Teaching with Interactive Computer Simulations
Friday, April 17, 2015: 11:00 AM-12:00 PM
153 C (BCEC)
You can use interactive simulations (sims) to engage your students with math content and support their development of the CCSS mathematical practices. Learn practical strategies for integrating sims into your teaching and designing sim-based activities. Videos of teacher practices for effective sim use and lesson plans will be shared.