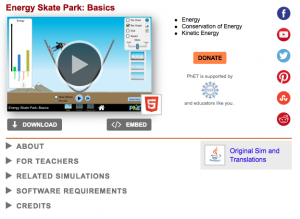 We are excited to now have individual HTML5 sim pages where you can easily access sample learning goals (under About), Teacher Tips and Activities (under For Teachers), Related Simulations, and Software Requirements. With the new pulldown menus, everything about the simulation is on a single screen. There's also a link to conveniently access the corresponding original JAVA/Flash sims and their translations.
And don't forget to help bring more improvements and HTML5 sims by donating at:
All donations are tax deductible.
Thanks for your support!