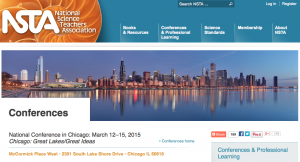 Will you be attending the National Science Teachers Association National Conference in Chicago, March 12-15, 2015? Join PhET at the following events
Thursday, March 12, 8:00-9:00 AM: PhET Workshop "Adapt Your Teaching to Support the NGSS Practices Using PhET Interactive Simulations" Hyatt Regency McCormick Place, Adler A/B.
Friday, March 13, 8:00-9:30 AM: PhET K12 Specialist Trish Loeblein at "Chemistry with Vernier" McCormick Place, W185a.
Friday, March 13, 11:00-12:00 PM: PhET Table at NESTA Climate, Ocean, and Atmosphere Share-a-Thon McCormick Place, Skyline W375e.
Stop by our booth #554 and play with the latest HTML5 PhET sims, learn about our Teacher's Tips, or just say "hi."