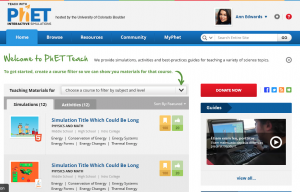 Thank you University of Colorado College of Arts and Sciences for your generous support of our Crowdfunding Campaign for our "Teach with PhET" site. Their gift of $20K helps build the new "Teach with PhET" site which will provide teachers – in neighborhood schools around the world – with the resources, guidelines and community needed to effectively utilize our simulations.
Every donation helps with our goal of $500,000 (or ~20,000 people giving ~$25 each). Your donation of $25 will help build the home page or the community pages!
Add your "two-cents" at http://www.crowdrise.com/helpbuildteachwithphet.