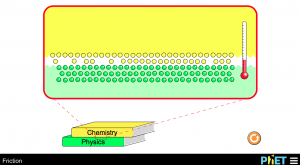 We've added yet another HTML5 simulation: Friction.
Learn how friction causes a material to heat up and melt. Rub two objects together and they heat up. When one reaches the melting temperature, particles break free as the material melts away.
Want more HTML5 simulations? Help bring Circuit Construction Kit to iPad.
http://www.crowdrise.com/PhETHTML5CCKSimulation